Certified E-Procurement Professional ( CEPP)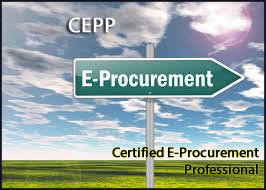 How do you know which e-procurement tools and systems are best for your organization? This seminar provides an introduction to eprocurement, current trends, options, and tools currently available in the marketplace, and will explore technology resources and methods of selection of technology suppliers and vendors. A step-by-step process for online sourcing and negotiation and a discussion on the use of third party facilitators and enablers will also be included.
Training Dates: AUG 11, 18, 25, 2018
Fees: $350
Payment are made in Naira at the current parallel market rate to the USD
All level 2 and 3 certifications are conducted at the request of level 1 certification holders and other applicants on a quarterly basis.
Except when it becomes necessary to move venue to the mainland areas the training venue shall be within the proximity of Lekki and Ajah's corridor.
We shall endeavor not to cancel any of our pre-scheduled programs, however, if for reason of insufficient attendance students shall be encouraged to take the self-study option and take the online examination at a much later date.
Please note that we do not refund payment once course materials has been sent to registrants , however, we can rescheduled training attendance for a registered student to the nearest month when the particular certification is pre-scheduled to hold.
CONTACT ADMISSION OFFICE: