Certified International Professional Negotiator ( CIPN)
September 12, 2018

-

September 14, 2018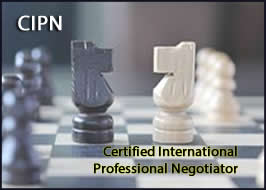 CIPN, ("Certified International Professional Negotiator"), is a certification program designed for US and international business practitioners by the American Certification Institute (ACI) and the International Purchasing and Supply Chain Management Institute (IPSCMI) for those individuals who wish to increase their international negotiation skills. This program is dedicated to promote negotiation skills and knowledge to world-class standards.
Training Dates: SEP 12, 13 & 14, 2018
Fees: $350
Payment are made in Naira at the current parallel market rate to the USD
All level 2 and 3 certifications are conducted at the request of level 1 certification holders and other applicants on a quarterly basis.
Except when it becomes necessary to move venue to the mainland areas the training venue shall be within the proximity of Lekki and Ajah's corridor.
We shall endeavor not to cancel any of our pre-scheduled programs, however, if for reason of insufficient attendance students shall be encouraged to take the self-study option and take the online examination at a much later date.
Please note that we do not refund payment once course materials has been sent to registrants , however, we can rescheduled training attendance for a registered student to the nearest month when the particular certification is pre-scheduled to hold.
CONTACT ADMISSION OFFICE:
No Fields Found.