Certified International Supply Chain Professional ( CISCP Level 1)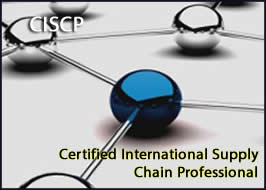 This program offers the designation of CISCP (Certified International Supply Chain Professional, Entry Level) and CISCM (Certified International Supply Chain Manager, Advanced Level) to candidates who demonstrate their understanding of the fundamentals of the profession through the successful completion of rigorous professional certification examinations based upon the INTERNATIONAL SUPPLY CHAIN MANAGEMENT BODY OF KNOWLEDGE (ISCMBOK). The ISCMBOK is supported by distinct modules of study material for the CISCP and CISCM. The CISCM has seven modules.
Training Dates: January 10, 11 & 12, 2018
Fees: $350
*This fee is inclusive of tuition and examination fee, please note that Resit for Failed exam will attract additional fee for the resit ( Exams Fee only) * Payments are made in Naira at the current parallel market rate to the USD (See rate at http://www.abokifx.com)
Training Mode: Self-Study, Online, Classroom Lectures Phone: 07088172236
All level 2 and 3 certifications are conducted at the request of level 1 and (2) certifications holders and other applicants on a quarterly basis
Except when it becomes necessary to move venue to the mainland areas the training venue shall be within the proximity of Lekki and Ajah's corridor.
We shall endeavor not to cancel any of our pre-scheduled programs, however, if for reason of insufficient attendance, students shall be encouraged to take the self-study option and the online examination at a much later date.
Please note that we do not refund payment once course material has been sent to registrants, however, we can rescheduled training attendance for a registered student to the nearest month when the particular certification is pre-scheduled to hold.
CONTACT ADMISSION OFFICE: